Stephen Weaver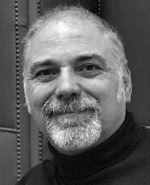 Stephen Weaver has always been an original. Even as a little boy, playing Cowboys and Indians, he only wanted to be an Indian. Today, his mind still wonders what things might be like if world views were "otherwise"; and his brain, thereby his work, endeavors to show the "variables". Stephen's talent makes "Seed Store to Table" a good metaphor. "He picks the seeds and grows them," interjects Craig Leavitt, "into a pleasurable and satisfying vision for LeavittWeaver customers and clients."
Len and Craig both agree Stephen carries much of the company's torch for furniture design, architectural detail and originality in furniture concepts. "He is a wonder-- every day," confirms Len Revelli. There is also the continuing wonder that LeavittWeaver remains truly a collaborative environment, with all three partners feeling no necessity for individual distinctions, while moving "as one" though their world of specialty design.
Stephen's abilities have often been compared to those of an "Industrial Designer" because to him the nuts and bolts are as important as the "ragging" (upholstery). Stephen's artistic endeavors seem to have begun at age 14, when a painting he made on the back of his bedroom door suddenly found itself taking over the walls. His artistic nature easily soaked up Fine Arts Painting and Psychology at Stanislaus State College, where before graduation in 1975, he was planning a career as a fine arts painter; never guessing, of course, how psychology would soon prove equally important to his artistic subjects! His fine-art interests will still pop-up irregularly; finding him indulging his painting passion for dedicated weeks at a time with almost no warning.
Craig remembers feeling a real simpatico for Stephen's work when first seeing it; leading almost instantly to the combining of design interests the two still share today. For months, Craig put off "'going out" to Weaver's country studio, even with friends' encouragement. The first time Stephen titled a painting "Sunday Morning" was due to Craig's "pushing it"; and ultimately, Stephen never titled another, but that Sunday morning changed the world the two men would live in.
Not long after Craig and Stephen met in 1977 they designed their first piece of furniture together; the "Willy" table (named for Stephen's Dad), making its debut in a living room design for an early 1980's San Francisco Decorator's Showcase. Stephen's workspace, today, is a good example of perpetual motion as you will find; sketches, presentations, floor plans, photographs, notes and TO DO lists, never seeming to slow…his desk magically arranging itself for the next day; unlike Craig's "'petrified hill" where a 1995 client thank-you note is as possible to find as today's calendar. Stephen remains a popular speaker, be it for Design Marketplace, a college design course introduction or charitable event; his ability for sharing insight, humor and encouragement is legendary. Those who find the chance for speaking with him personally, find a rarity...a good listener; his interests always providing a surprise as to where you find his thoughts venturing to take you next.
His special way with animals is notable; be it with Saluki (his "brand" of dog), cat, bird or…iguana, all become rapt to his attentions; and no matter how often one witnesses this "'love happening", it is always a wonder and a satisfaction.  Satisfaction: That word very well may sum up the gifts from this unusual man; defining his work, personal relationships, and interactions with an appreciative world; satisfaction realizing how we feel improved just being with him.